Early morning to boat on a Wednesday – with the race not until the Saturday!  So why so early in the week to travel?  Steampacket timetable, that's why.  Ireland must be the most inaccessible places to land!  So into Belfast we went a few days ahead of Da Cooley Thriller, a MTB XC marathon of some 52km in the Cooley Mountains County Louth.  After a bit of retail therapy internet research we discovered that Chain Reaction has opened a flag ship store in a retail park adjacent to the motor way.  Amidst all the usual PET/CARPET/ELECTRONICS stores we were eventually lured in by the famous Chain Reaction Logo.  Great store, nice helpful staff with twisted Belfast accents; I had to translate for Coops at one stage!  Some 45 minutes later with the wheels and van still intact and both of us a few dollars lighter we carried on our way 'SOUTH' heading over the border into the Republic and into the fog, mist and rain, the conversation was very political and we discussed the history and various aspects of what has led to the current political circumstances.
Our intention to kill the time awaiting for the main event on the Saturday was to have a few short ride outs on the Thursday in two small trail centres and then ride off-piste on the Friday with a member of the renowned EPIC mountain bike club (organisers of the now defunct EPIC BLAST), then pick up Mrs Coops Friday evening from Dublin airport and head to Carlinford for the bike marathon XC.
We enjoyed a welcome stay courtesy of a good friend of mine, where Coops probably learnt more about me than perhaps he cares to know!!!  As they say, what goes on tour…..etc…..
On day 1 We went off on our own steam after a good night's sleep and bellies full of lovely homemade curries…hardly the diet of athletes….  We had dropped our bikes off for minor mechanical adjustments which we collected and headed to the Wicklow Mountains to immerse ourselves in what Ireland had to offer.  We started off at Ballinstoe, Irelands first official trail centre.  The approach and start of Ballinstoe is much understated.  The trail head is a gate to the plantation with usual map boards and advice notices.  The car park is a lay-by on the road side, so all quite discreet and manageable, no small change nonsense for the car parking!  We assisted a fellow biker parked beside us, who had forgotten hi trail pump – some moments later the air was blue as our absent minded friend discovered he had forgotten his bike shoes, Coops and I hid in order to enjoy the amusement of his misfortune!  So, onto the trail , unlike our shoe friend – like most trails centres there is a fire road lead in to a short rolling single track run – it's always a great thrill to get the first trail completed, especially with brakes that work and gears that index!!!  So, on through the various fire roads that link to the single tracks.  We completed the whole course in 1' 30" and enjoyed our leisurely pace.
We then loaded up the van and drove about 9 km towards Co. Dublin to the recently opened Ticknock downhill MTB course.  For those of you who know Dublin this is the mountain with a series of aerials located on it that is quite a recognisable vista from most of the city and environs of Dublin.  Having taken in the great views we headed on up a nice steep road climb to the masts.  From here you branch off to the trail head and then the fun begins!  The layout of the track is rock garden and jump based.  Its secret given away by the amount of other bikers around us bedecked in full face helmets and body armour!  We braved it without!  It's a very simple layout.  An Coillte (the forestry commission) have utilised the side of an old fire/access route and have assembled about a 2m wide packed trail following the existing lye of the land interspersed with large granite rock gardens!!!  Coops was in heaven and we both whooped and scooped our way down the short trail.  If it were not for the weather closing in were tempted to do it again but instead proceeded to the 2nd run of very technical steep, more conventional single track which leads back to the car park through the trees.  The total round trip of these two short trails is about 8km but what it lacks in scale and distance it certainly makes up for in skills and pure adrenalin.
On our second day we were up early for a guided ride out on natural Wicklow terrain.  We met our host, Don, and once buckled up headed almost straight through some lovely but difficult broad leaf single track with plenty of off camber exposed root trails!  Good for the skills!  There had been plenty of overnight rain fall, the trail reflected this.  We passed random drop ins, Victorian follies and a quaint commute through a tunnel for which we had to limbo out of at the far end due to its low over hang.  Coops brushed his back pack upon re-entry to the forest nearly causing his parachute to be activated!  But his ejaculation was retained.  Good skills Mr Cooper!
Via the dual carriageway we proceeded up a steep road climb to the near top of the Sugar Loaf mountain and were rewarded with a cracking natural single track decent through the over grown ferns – As Coops remarked it was very reminiscent to Barrouse.  Aching forearms, break pad odours and big smiles all round.  All done by lunch time, we bid farewell to our host and assured him we would be back soon for more of his trail knowledge!
We then discovered with some angst that Mrs Coops' flight was going to be delayed and then finally cancelled, so without our support we headed off to the host town of Carlingford of the XC event to get an early night before the main event.  However we fell into a barrel of Guinness!!!  All good pre race training!
As the day evolved the surrounding mountains that were awaiting our foot fall were shrouded in mist and general cloud, this did not bode well and the discussion over breakfast was what to wear and what to bring!  Never easy to forecast, especially on unfamiliar trails.  We signed on and gratefully accepted our race Buffs and as we roamed around pre race the weather warmed and improved.  Back to the digs to prepare and team colours were agreed.  After the usual race brief, freelance photographers and general banter we headed off after time on a warm up lap of the bemused village more used to yacht parties and walkers than us hairy lot!  The warm up lap concluded on a farm track and suddenly the race was on!  But for us near the back the monotonous one rider one bike system over the styles in the early 'weed out the week' section was frankly hateful.  This pre amble continued where the experienced had pre-empted this by elbowing through to the front to avoid this feck fest.  Finally out of the ethnic cleansing loop to the start of the 9km mother of all road climbs from sea level to heaven then over to the claggy open moorlands where the fun and mud began.  'Schlomp' is the word of the event – it's a new one on me, but it expresses perfectly the oily, sticky, gloopy, peaty mud that we all transferred over the country side.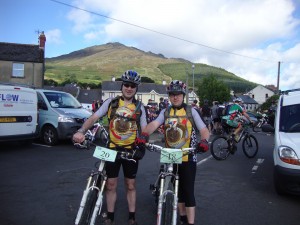 The day was wonderful, but the beating the land had endured over these last few months left us with some dreadful conditions.  Yes there were some lovely natural single tracks with rock obstacles, but the climbing seemed to out way the descent and I spent a lot more time pushing than peddling than I care to admit along with sliding along the side of the mountain it was hell.  I would just get going and whoops rear wheel slips out (again)!  Painful and energy sapping.  Silly mistakes started slipping in, I mean real school boy errors, lucky for me that Barry was not behind me with his magic camera!!!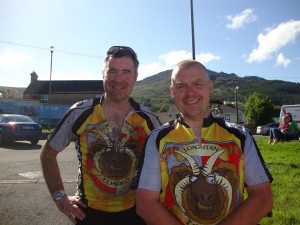 But we finished in our own way and were not disgraced by times.  I noticed the winners times were high this year which reflected down the field.  Everyone agreed the ground conditions did add a lot of additional time, as further down the line up you are, the gradually deteriorating conditions add to the effort…gawd bless granny ring!!!!
So, both home in under six hours, which was respectful considering the total lack of training.  We both agreed that it's MUCH tougher than the E2E in terms of terrain.  Its all proper XC and single track – It sorts out the MTB'ers from the GRB'ers.  We were well stoked with ourselves.  Coops vowed to pack a spare cleat for eternity as lessons were learned.  The day was capped off with lovely beef and oyster pie and Guinness…. and oh yes, the now traditional post dinner walk to do a bit of Smurf hunting…. Great great weekend, will definitely work towards going again – this time with a hard tail and perhaps a choice of tyres just in case…..