LEJOG – Lands End to John O'Groats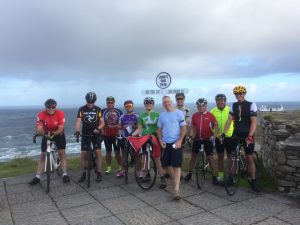 Nikki's 40th Birthday ride, a stupid idea hatched in a pub that got out of hand
Riders :-
Nikki – The Natterer
Lamby – Shepherd (always going back to keep us together)
Gru – Always after a better route
Woody – Wind him up watch him go
Dave – Plodder
Neil – Eurocycles Professional
Pete – Lead out man
Sarah – Dark horse
Cam – Red wine connoisseur
Support :-
Caroline – Mother to Sarah, Personal Concierge
Paul – Driver, Restaurant Finder
Day 1 – Lands End to Okehampton 109 miles, 7312 ft of climbing
Arriving at Lands End the bikes were unpacked from the van, a final bit of fettling, photo shoot, black armbands given out in memory of Kate, though this was by no means a sombre occasion which was fitting, more a celebration.
Giddy and apprehensive we set off in summer gear, within 5 minutes it pissed it down, ideal conditions for the porcelain complexion of Lamby. 6 minutes in the first mechanical, Nikki thought the road was just bumpy in fact she had an egg in the tyre due to it not sitting on the rim right. Pete came to the rescue rubbing some sudocrem from his bib shorts onto the rim to get it to seat right, once Lamby's ginger pubes were removed we were on our way (how they got there who knows though Lamby and Pete bunked together and may have double dipped).
The sun came out, motorists gave us plenty of room all was well in the world till Sarah punctured after 15 miles, luckily the Laxey/Maughold support van was on hand like the Mavic Tour car. The first 30 miles gave us false hope, Cam setting a blistering pace riding and sweating like Gary Glitters paperboy…..then the hills arrived, not steep but long draggy climbs that came around in relentless fashion. With the country lanes being narrow we soon had Cornwall in gridlock, passing near to Bodmin Moor we thought we saw the beast turns out it was Lamby having a piss in the bushes.
Going through Redruth a local 6 fingered intellect observed us stopped at the traffic lights,……
"I see you're on your bikes then"….. Unable to come up with suitable riposte we rode on ignoring the pull of a pasty shop which had the the biggest pasty hung outside above the door, we doubted they sold it by the yard.
We soon discovered much to our amusement the Garmin GPS units have the annoying habit of updating routes just after you've turned the wrong way, especially at roundabouts, we soon learned to do synchronised turns altogether like dressage horses.
Three more punctures in quick succession, Sarah again Pete and I especially on the busy A30 that we had to ride on for a short while. Here you have to decide whether to risk riding near to the traffic or risk getting a puncture from the debris which included a dead badger (one for the I-Spy book of dead animals) and one of Lamby's disco loafers.
The last 15 miles were up with a bit more up and then a steep hill to our accommodation for the night.
The weather on the first day was hot and sunny, with Lamby being of fair complexion (ginger) he suffered in the sun, on the Dulux colour chart after today's ride 'Prawn'.
Day 2 Okehampton to Yatton 91.3 miles, 4117ft climbing
A sunny morning greeted us, we were all eager to start apart from Woody who had wine legs from a bottle of red the night before.
We waited with anticipation as the Garmins uploaded today's route (so we could get lost with ease again) thankfully they pointed to the right, as to the left was a feckin big hill that nearly had us in tears the day before till we turned off it.
We soon arrived at a hard climb that went on for ages round every bend it carried on, it finally ended as we arrived at the village of Cadbury…very disappointing village consisting of a house and a hay bale. The next two villages 'Bow' and 'Copplestone' were straight from Midsomer Murders, quaint cottages with thatched roofs and bent and twisted walls, but not as twisted as a Woody's mind reminiscing about George Michael cottaging.
Coming out of Crediton (a bustling market town similar to Foxdale) the only crash of the whole trip happened, Gru was taken out by Sarah….she says she innocently ran it to back of him and he couldn't get unclipped (we think it was because Gru tried to beat her up a hill and Sarah was having none of it) Gru was rolling around in some pain like a turtle on its back, we quickly rushed to Sarah's aid who was in danger of cracking a rib laughing so hard, seriousness of the collision became apparent Sarah had broken a nail.
It was decided to have a spot of lunch after the excitement, especially as Cam was peckish due to continually attacking at the front of the Peloton. Unfortunately there was a mile marker on the map making it hard to make out if it was a 'W' or a 'H'. It was decided by majority to stop at Walberton, only Nikki thought it was a 'H'. After about 5 miles we approached the village of Halberton, Nikki looking quite smug. Sadly for Cam there's more going on in Grenaby than Halberton so it was on to the next place Wellington, the extra miles were well worth it, stopping at the 'Skylark' pub which did first class pub grub. Pete misunderstood the question the barman asked, I apologised to the barman stating that he had special needs, realising halfway through the explanation the barman had special needs…..Doh!
Whilst eating we were entertained by Gru being given a lesson on how to stretch and do yoga, he's now supple and lithe not too dissimilar to an arthritic wildebeest.
We got chatting to a tandem couple doing JOGLE for bristol Childrens Hospital they hated their bike with every sinew, their pain was nearly over.
The next incident of note Cam punctured mainly due to him running an 8 year tyre with just canvas left. The childish ones amongst the group (Nikki, Sarah and Woody) discovered what fun could be had with a sticky prickly leaf, feck it hurts…."look it even pricks through Lycra" right on my arse as I was trying to have a drink.
Luckily we were close to tonight's stop a luxury hotel at Yatton, the rest of the leg was incident free apart from Roxanne (Sarah) who likes a red light she never stops for them, just missing a bus. I went through on red after her purely to tell her the light was on red…..I never knew bus horns were so loud.
At the hotel/pub evening meal Caroline let slip that Neil in his wisdom mistook a YHA green pillow case from the previous nights stop for his own green t shirt, packed it and tried to wear it.
Taking advantage of having a bath Nikki and I had a freezing cold bath though not together (Separate rooms) as that would be wrong and unfair on Woody as he would get the plug end. They do help the legs recover.
Lamby is now Post Box red on the Dulux colour chart.
Day 3 Yatton – Coalport 118.5 Miles 6,148 ft climbing
Once we had lathered Lamby in factor 2000 and he put his Lycra burkha on we set off, today was supposed to be an easy pace….the first ten miles was more like a time trial averaging a steady 25mph with Cam attacking from the off then slowing then attacking again…..I'd love to see Cam at the velodrome it would be chaos.
About 30 miles in first refreshment stop Caroline ready with bananas looking resplendent in purple think it was her tribute to Prince. Caroline was quickly becoming my personal banana peeler and bag carrier, Paul was becoming the Kwikfit fitter for Gru and Sarah (Roxanne) getting punctures repaired and replacement wheels ready.
Once on the cycle paths the pace slowed to a sociable pace (the cycle paths are good for avoiding traffic but are slow and twisty and easy to take a wrong turn…..the ones in Somerset work well though).
Pootling along, birds singing sun shining what could go wrong only Gru could spoil the moment, a wasp getting inside his sunglasses with amusing consequences.
Going over the first high bridge of the trip over the River Avon Lamby shit Woody up by braking and screaming hard behind him, which would turn out to be the last time Woody was to be regular before Scotland.
A diversion sign due to roadworks could have got us easily lost, but Cam charmed the workmen with his cheeky smile and turned ankle, Cam has a reputation in Somerset after a previous Loaghtan Loaded Tour he's still recognised by both sexes.
Taking advantage of a workmans portaloo positioned at temporary traffic lights Pete went for a pee only to quickly come out as you could only use it with a bio hazard suit on, Pete, Neil and Gru all had a pee on the roadside unaware of the attractive young lady now stopped at the temporary red light.
Next up was the River Severn road bridge (Lisa our coach and training guru had done this earlier with the children centres LEJOG ride and discovered she has a phobia of perfectly safe structures) going across it was quite exhilarating at just under a mile long we stopped for the obligatory photos at the middle, it also gave us buzz as we were now heading north.
Once off the bridge we were in the land of the consonant 'Wales', silly words, big hills, winding lanes, a dream for the local motorcyclists, a nightmare for us despite being used to the TT, one came past us on one wheel, sounded good and loud as it opened up similar to Pete in the morning though not as loud, Pete has amazing flatulence, able to hold a note similar to the Lurpak trombone man.
Stopping for Lunch at 'The Lion' Trellech, the bar lady was on the ball and a good laugh, the young bar lad bringing the meals out was close to melt down, constantly getting the orders wrong.
Being in the zone and the LEJOG bubble conversation always revolved around the route/recovery/performance and marginal gains………
……….'Did you know the Armadillos are the only other animal that can get Leprosy' one of Woody's gems.
After lunch a few more winding lanes till we got on the A40 which was a good climb that we all managed with relative ease….must be getting use to this malarkey.
Around Hereford we came across the most awful red Tarmac that was really draggy. Next place to get lost was Ludlow till Paul found a short cut to the YHA, which sadly was mainly up hill.
Later on Cam asked two local ladies for directions if was only a few miles further on we realised Cam was missing, he has now moved his operations into the next county, he eventually caught up…..I'm sure the rash will clear up in time.
Towards the end of todays leg Nikkis feet swelled up think it was Cams viagra supply getting mixed up with Nikkis Co-Codamol.
Woody was causing concern with a troublesome Ankle injury Nikkis Co-Codimal came to the rescue though he was warned it could leave him bunged.
Finally arriving at Coalport YHA tired but still chipper, Paul got pizzas for us while we helped Gru log on to the Wi-Fi….He struggles with technology.
Lamby is now Manx Flag red on the Dulux colour chart.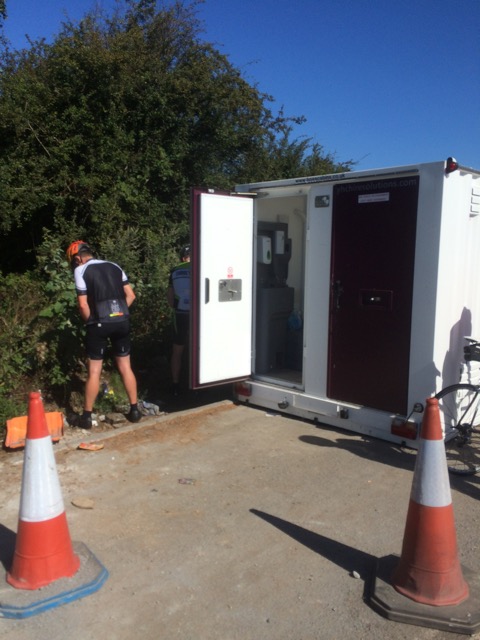 Day 4 Coalport – Arnside 140 miles, 4,281 ft climbing
A sunny morning today was going to be a hot one. After getting the bikes out from the overnight storage we then helped an Australian get her bike out, she was doing a solo tour of England, Wales and Ireland. After chatting for 5 minutes with her I can't think why she was single, maybe it was because she had no social skills and was obnoxious.
Within seconds of departing we had a feckin big hill straight away which we all loved. After about two miles we were lost, luckily an elderly gentleman on a bike led us to the entrance of the concealed cycle path we were looking for. Once on this path it was fairly straightforward only taking one wrong turn that led to a bit of cyclocross.
Going through the village of Lilleshall Lamby and Pete got an offer that they may have taken up if we weren't pressed for time. An elderly church goer was getting out of her car showing a lot of leg, once out of the car she deliberately raised her skirt to flash a bit more, she was about to take her teeth out for some action when the church bell rang for mass.
Further on another road closed sign, we decided to gamble as the diversion would have added miles, the surface was quite rough. Neil decided to use the other side of the road as it was a smoother surface….'wouldn't it be funny if traffic was still allowed to come the opposite way….in unison we all shouted car coming', just as one actually did.
Things took a strange turn at the next food stop. Woody was having trouble with saddle soreness, most would use chafe cream or double pad up, not Woody. There was some plumbers pipe insulation used to protect the bike frames in the van Woody put a length of this down his Bib shorts, swearing it worked a treat, he's going to take it in Dragons Den for a 20% stake you can invest 'LAG-ASS', soon to be seen in the Tour de France, yellow pipe lagging for the leader.
Dinner was sat at the roadside across from a petrol station, the lady working there was amazed we stopped there as a few hundred yards down the road was a scenic picture area. The support crew had done us proud again with a good selection of food, savouries seem to be the flavour of the day as well as Cats lemon drizzle cake.
Heads turned going through Merseyside, pedestrians could be heard saying "did that man have a pipe in his arse". Warrington was a bit of a nightmare mainly due to the large volume of traffic, Nikki got some dogshit on her shoe, Caroline went beyond the call of duty and cleaned it off for her…..and I thought I was precious. Once through Warrington the roads got better, the birds seemed happier the grass greener, it could only mean one thing we were in Lancashire, home of the Parch pea, The Butter Pie, Black pudding and Craig Hindle.
I led the group through Preston my home town knowing a few short cuts, local knowledge goes a long way going through towns as we discovered later.
There were two plans for todays stage;
1. To stop at Garstang for tea, drive to the nights accommodation drive back to Garstang in the morning to start again, this would have meant loading all the bikes in the van.
2. Stop for tea at Garstang and ride another 30 miles to the accommodation.
We decided on option 3 which wasn't even an option….ride straight through to Arnside and get tea there. This proved the correct option, despite getting a bit lost, a local workman ripped a page out of his A to Z atlas to help us ( Lancashire one of the friendliest places) About 20 minutes before the end the heavens opened, horizontal rain and another really steep hill to get to the YHA, we arrived drenched but still in good humour, happy in the knowledge that if we had stopped at Garstang we would have had at least two hours riding in torrential rain…..'Woody arrived happier more to do with a pipe stuck down his bib shorts…..I worry about that boy'.
The pipe lagging is just about understandable whilst riding but there was no need to have it down there in the evening, though he did get a bigger portion from the young waitress.
A long day at 140 miles rounded off with great meal at a seaside Thai restaurant 'Gado Gado' organised by Paul
Condition of Lamby with it getting cooler the further north we get he's improved….Colour Peppa Pig.
Day 5 Arnside – Gretna Green 77.9 miles, 3.831 ft climbing
A short one today due to yesterday's effort. Once Woody had his lagging pipe in place and took his Co-codamol to ease his ankle pain though not his movements we were off.
Conditions were a little cooler but we knew it was going to get warm pretty soon as there was a 1 in 7 climb to do virtually straight away. A strange rumbling could be heard at first, we thought it was some farm machinery turns out it was Gru, he enjoyed his breakfast so much he wanted to see it again throwing it up.
Just before Kendal a confused motorist came round the roundabout the wrong way which makes you question if you are going the right way. Stopping in Kendal at the Evans bike shop as Woody needed some new cleats to replace the Shimano £3.99 fakes he purchased from Ebay. He was then escorted from the shop by the sales assistant, after he bent down baring his arse asking "have you any pipe lagging like this"……."this time next year I'll be a millionaire".
Next came the Shap climb which wasn't as bad as we thought it would be. At the top was the van which we hadn't seen for a while, no wonder Caroline and Paul had bought the entire contents of the savoury section of the local supermarket, can't help thinking TEAM SKY are missing a treat, Scotch Eggs and Sausage rolls give you that marginal gain.
At Penrith Nikki arranged to meet two friends Claire and Ted for a brew. Woody was immediately infatuated with a soft touch of tender hands over his sore ankle and caressing his calf he was in ecstasy…..Ted being a Physio had Woody like new, the transformation was Lazarus like…..Woody pushed his luck "can you do anything about this" showing Ted the pipe coming out of his arse.
The road from Penrith to Carlisle was just like a massive switch back, big rollers but into a headwind. Going through Carlisle was pretty straight forward till we hit a massive roundabout where we got separated. Nikki and Pete went one way while the rest of us discussed our options. I saw one of those brown tourist signs directing you to Gretna Green, our destination and set off whilst the rest waited…..I soon returned.
Me "It's this way there's a sign"
Sarah "Why have you come back?"
Me sheepishly "No reason"
Sarah "I thought it was that way?"
Me "It says Garden Centre not Gretna Green, without my glasses very similar"
I could hear Nikki from 4 miles away "Knob"
Once the right way was decided after getting directions from a garage mechanic we soon took a wrong turn again.
Sarah was quite smug "I told you it wasn't that way, you wouldn't listen"
Gru from his book of Gruisms "Even a blind chicken finds the food".
We soon saw a great sight 'WELCOME TO SCOTLAND'
Arriving unloading the van I discovered that road cleats and the metal step on the van don't go together, slipping arse over tit, cutting my hand quite badly and banging my shin. Luckily only Sarah and Nikki saw the incident, once they stopped laughing they treated my wounds before telling the rest of the crew…sniggering.
Once in the hotel after another cold bath, I was treated to a surprise birthday party with cake, candles and pressies…….I have a great set of mates
The staff at Hazeldene Hotel, Gretna Green were superb and couldn't do enough for you.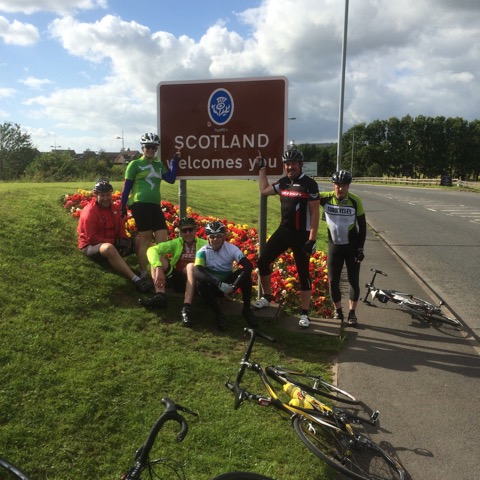 Day 6 Gretna Green – Perth 137.5 miles 5.197ft climbing (Gru's day)
Before leaving today Neil got searched to make sure nothing was taken from the hotel.
Once on our way we were making good time, Cam again regularly attacking from the front before reigning himself in.
Unfortunately part of the road had just been re-chipped, speed limit 20mph for traffic, as the the traffic (mainly lorries) went past at 50 mph spitting chips at us and with the headwind creating a dust cloud…..nobody noticed the signs Gru was like a kettle coming to the boil.
At the next roundabout unsure of which way Gru led the way…….
……..it may be sleep depravation or tiredness in the saddle but what happened next was quite surreal.
Gru taking a turning off the roundabout was followed by a car flashing its indicators and honking its horn, clearly trying to tell us we were going the wrong way, towards the motorway…..
Gru shouting at the driver, "do we look like feckin idiots" (actually yes).
The car slammed to a halt in front of us the driver getting out shouting "what did you say feckin idiots"
Gru " You're the Twat in the middle of the road".
Luckily the angry Scotsman drove off avoiding a diplomatic incident between the Celtic nations.
Analysing the situation at the next snack break. We explained to Gru that the man was trying to save our live's and you called him a 'feckin twat' for doing this. Gru was still spitting feathers while we all pissed ourselves.
Normal service resumed and we carried on our merry way.
The support van did us proud again with a selection of savouries Pies, Pasties and Sausage rolls, Cam wanted the toilet and went to a nearby petrol station while we tucked in to the food like vultures on a fresh kill.
Caroline "Save some for Cam"
Gru "You know what they say, he who goes for a shit, eats mars bars".
The road ahead had road closed and diversion signs, we gambled and ignored them which turned out to be great as we had the road virtually to ourselves for about 20 miles.
Gru punctured again which was probably Karma, whilst waiting, Me,Nikki, Lamby and Sarah made a great discovery, road side crash barriers are really comfy to sit on especially after 6 days in the saddle. On our way again taking in the scenery and the native wildlife…..'was that an Emu' on closer inspection we had cycled past an Emu and Llama farm.
Reaching Livingston unsure of which turn to take at a busy roundabout with a modern art sculpture we found the cycle paths which turned out to be a feckin nightmare turning every 30 yards. After about 4 miles we had had enough of the cycle paths and went back on the main road, nobody said anything at first…either that modern art sculpture is very popular or we are back at the roundabout…..it was the same roundabout then it started raining….feckin marvellous.
We hit Edinburgh just in time for rush hour trying to navigate our way to the Forth Road Bridge luckily a local cyclist kindly showed us the way.Once across the roads quietened as we headed for Perth. We were resigned to it being a late finish due to Livingston/ Edinburgh traffic and Gru's 8th puncture. The descent just before Perth was Tour de France standard, sweeping turns in a deep tree covered gorge that went on for about 3 miles towards the end we were worried there must be a climb coming up to have dropped so much, luckily it never came a fairly flat ride to our accommodation.
The accommodation for the night was luxury, our own en-suite rooms in the halls of residence at the university, doubles as a YHA during holidays. The support team did us proud again getting chips and curry for us all. The curry worked a treat with Woody at last there was movement, like a father at his first born Woody looked proud…..Hats off to Sottish water excellent plumbing.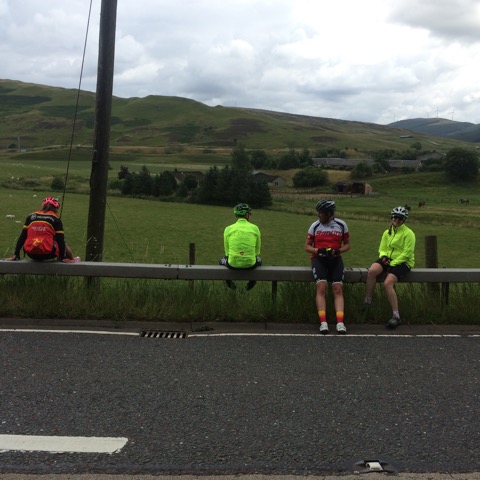 Day 7 Penrith – Aviemore 87 miles 3,099ft Climbing
Breakfast was instant Porridge something that Chef Neil struggled to make…'Stir until thick', was lost in translation to get someone ' Must be Thick to stir it'.
The early morning sun was deceiving as the temperature dropped soon after starting. This turned out to be the only cold day of LEJOG, we were on a road that we seemed to have all to ourselves till the peace was shattered, not by Pete and Grus incredible farting talents, but by two RAF jets that came down really low just like Top Gun. Sadly there was no food drop, it perked us up till somebody said "They're probably at John O'Groats now we still had 300 miles".
Brunch was alfresco at the White Van cafe savouries, wagon wheels and bananas, just outside the grounds of Dunkeld House Hotel the contrast couldn't be greater.
We rode through the grounds riding past at least 800 deer like the Serangeti, Lamby looked the other way and missed them all. The cycle path was more suited to cyclocross bikes than road, we soon decided to go on the A9 as it looked quiet. As soon as we got on it it turned into the M25, Sarah had a melt down when a wagon came close luckily we weren't on it for long coming off at Pitlochry. Caroline was on hand to give us all a hug Sarah got two. At Pitlochry we took advantage of a cafe with a bike shop next to it, a few of us purchasing warmer clothes due to the inclement weather coming in. We met Sue Mc Nulty at the cafe for a catch up, Woody and Gru had a massage from Nikki, Woody screaming like new born baby.
Leaving Pitlochry the weather turned, heavy rain and cold, Lamby was now causing some concern as he was in some pain. We took turns to take the piss and cajole him along. The cycle path we were on was the old 'A' road now disused, this gave Lamby chance to do some stretches on the Tarmac while we gathered all the pain killers we had and sold them to Lamby, market forces at its best.
We thought Woody had taken too many pills "These coloured glasses I have make my bike bigger", taking them on and off as he rode, "big bike, little bike, big bike, little bike".
A little further along the pristine wide cycle path Neil nearly came off mounting the grass verge 5ft away at the side, we can only assume he had a bit of a nanny nap. The cycle path deteriorated to narrow fire track, not much hope for Neil. The firetrack would have been great on a mountain bike a bit like a smoother Glion Gil, Woody liked it so much he let out some sort of whoop, similar to a Hyena in heat. Sarah got a puncture just as the rain came down heavier, me, Woody, Pete and Nikki sheltered under a low bridge waiting for the repair to be done. This gave us chance to try on Woody's magic glasses, they do make things bigger……Nikki asked to borrow them later on.
The support team found a cafe further on a proper greasy spoon but it was like a 5 star Michelin given the rainy conditions…..'Strange that I was asked an I eating in or out'. It's important to eat healthy when doing LEJOG, chips, cheese and hot chocolate was the order of the day.
Donning our waterproofs and warm clothes we set off again in the awful conditions, Woody looked like Franz Klammer, The support team were sent on ahead to Aviemore to be personal shoppers to see if they could buy warmer clothes as the forecast was the same for tomorrow. Pete and I needed a jacket, Sarah gloves and Cam long silk gloves and a kimono,I worry about that boy……with this in mind you would have thought you'd have your phone handy to receive news……Not Cam who attacked again from the front with his phone turned off. Luckily Aviemore was well sign posted saw couldn't get lost.
Lamby was now struggling and was feeling guilty about slowing us up……We told told him to shut the feck up, it was like a scene from a U.S. Vietnam film ….'we leave no one behind, even a ginger cripple'.
Arriving at the YHA we were soaked through and cold, but still chipper.
A deer ran in front of Nikki on today's leg but no one else saw it therefore it never happened.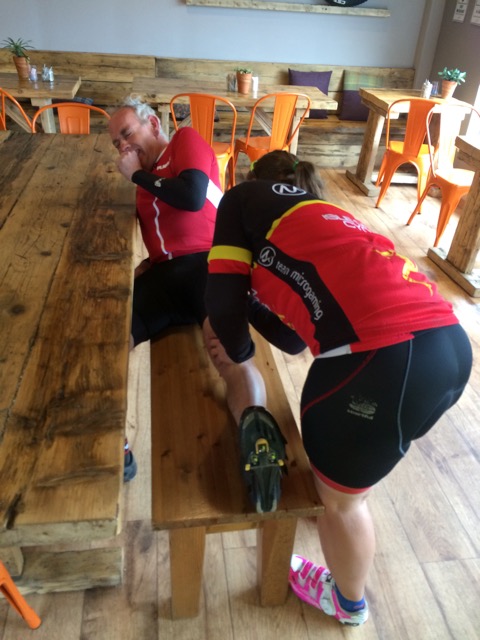 Day 8 Aviemore – Lairg 94.7 miles, 4,677 ft climbing
At this YHA the couples stayed in one dorm whilst Me, Cam, Woody, Paul and Pete had another. We would be staying at this YHA in two days time on the way back, we left our room in pristine condition……
Sadly Lamby was unable to continue, we left him with a service revolver and whisky, he took the easier option to help the support crew.
The forecast wasn't great we were going to get wet again but at least it was warm today. The rain started virtually straight away on the first climb, the alphabet game is always a good pick-me-up, the topic was bands the letter changing every mile double points for the same letter 'Franz Ferdinand = 2pts and the shout BOOM!, with the group spread out sometimes you couldn't hear the band shouted out or you'd forget the band had been shouted out already.
The game helps with the pace as every body wants to hear what band has gone, even this fame gets competitive it all kicked off with the letter 'S'…..all of us had Shakin Stevens at some time.
"Feckin Goldfish" already gone was the regular shout…….
……Nikki blew us away with 'Sea Sick Steve' BOOM,BOOM,BOOM!
Continuing through the quiet lanes we passed a tourist attraction…
"What do you think they are Woody?" I asked
"There those are feckin feck feckin feck things that feckers get feckin put in when they're feckin dead those are. The feckin things you know what they are, feckin burial mounds that's it" Woody got sacked as a tour guide for Manx National Heritage can't think why 'it's just a feckin big wheel'.
As we came into Inverness the rain relented, as usual as soon as we hit a built up area we got lost. If all else fails ask a local…..Nikki chose to ask a foreign looking chappie in an Italian football shirt, think she just fancied him, luckily we saw a cycle path sign.
Whoever designed this cycle path through a shopping area has never rode a bike. A steep descent on granite sets that were wet, the slowest I've gone on a road bike downhill. Mums with prams, OAP's with shopping trolleys were going quicker, a bit disappointed with Inverness bit of a shithole.
Another long bridge over the Beauly Firth, once over it dinner time, the team found a superb restaurant Kessock Hotel, the food was excellent, I changed my order to avoid a row with Nikki and Sarah, Tagliatelle Meatballs only two left, knowing how these two ladies can turn it wasn't worth it.
On our way again on another cycle path that ran parallel to the A9 all the way to Dingwall, a biggish climb but with a good descent. Gru threw his helmet off halfway down Woody just avoiding it…..a wasp had stung him, we tried to show concern but couldn't stop laughing.
Next a really big climb but the view at the top was worth the effort overlooking Domoch Firth, quite breathtaking considering I have great views living in Foxdale it is high praise. Woody thought he saw Loch Ness it turned out to be a worm….he had his magic glasses on.
The descent down was about a mile, just one more bridge a small one that was impossible to ride, metal grate that was slippy. A few more rollers and we were at Lairg.
Our accommodation was at Durness about a two hour drive through stunning countryside, even saw a majestic stag, by chance we came across a B&B that did evening meals, again the food was great, the stag must have wetted Woody's taste buds he had the venison curry, …….. eleven of us turning up ruined a romantic couples dinner who soon departed.
On the way back to the van the legendary Scottish midges attacked we nearly lost Woody like a scene from 28 Days Later he was attacked again and again. Arriving late (11 o'clock) at the YHA other guests already in their bunks Pete gave them a traditional Manx greeting….A real rasper from the top drawer.
Day 9 Lairg – John O'Groats 88.2 miles 4,225 ft climbing
The last day and an early start up at 5:30 as we had to drive back to Lairg to start where we left off. A change of route due to the strong/gales that were forecast, now going up the East coast which should shelter us a bit more.
Gru's bowels weren't right but 'cycling settles your shit' another Truism.
Dressed for wet weather we were soon de-robing after the first climb as the sun was out, after the climb a descent that had us all smiling 10 miles of hardly pedalling passing some massive wild goats that looked like mammoths. At the end of it the white van was waiting…..Whoop Whoop was the familiar cry from Sarah…..The amount of shite that you eat is incredible… Typical snack stop, Pork pie, Cheese & onion roll, Viscount biscuit, Pringles and a Snowball cake…..no wonder Pete and Gru farted their way through Scotland even Thunderpants (Neil) was struggling to match their commitment.
Onto the A9 (a sign 76 miles to John O'Groats perked us up) was quiet as we were that far up the only real next town is Wick. Considering this was the ninth day we were setting a good pace quickly rattling the miles off, the next climb was probably the steepest of LEJOG but still enjoyable. The wind started to pick up 40mph side gusts which was quite scary especially going down a steep hill that had a run off lane for lorries, over an exposed bridge, I shit myself as a caravan got a bad side wobble in front of me.
The next stop was Latheron, Sarah needed a hug from Caroline as she had a scare with the strong wind, Gru needed a hug as well he had a scare with the wind nearly following through.
Gru "I think we should have stuck to the original route"…… Nikki gave him one of her death stares that Lamby knows all about, it can turn milk from twenty yards away
Caroline joined us and led out for the last 35 miles, John O'Groats is signposted regularly with different mileage distances then, we seemed to be 16 miles away far ages. Finally the sign for Welcome to John O'Groats, we waited so we all rode in together, riding to the John O' Groats signpost for the obligatory photos……Lands End 874 miles, our route was 950ish miles.
As soon as the photo call was done it was off to the tat shop for fridge magnets. Then bikes dismantled and packed away for the drive back to Aviemore.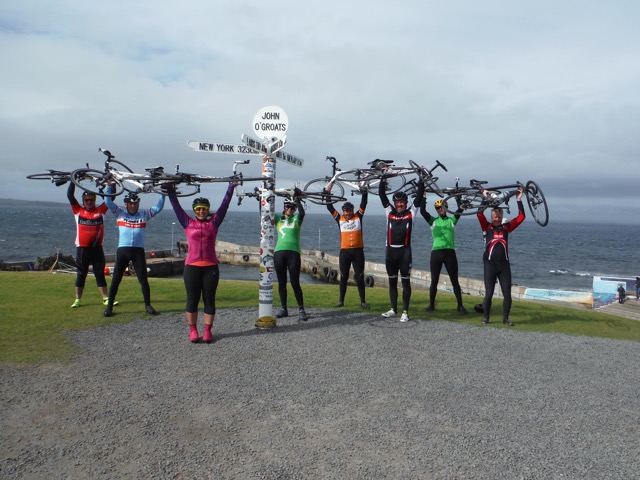 Arriving at Aviemore YHA the girls checked in first choosing the room that we had previously, we ended up with theirs…..we left ours in good condition, theirs had the bunk bed dropping to bits, fan in toilet broken, no handle on the toilet door…..we came to the conclusion Gru had been in the toilet next person panicked snapping the handle off trying to escape.
LEJOG Epilogue
A massive thanks to Paul and Caroline our amazing support crew we couldn't have done it without them, we made it hard for them at times by taking different routes but they still managed to find us.

A big thanks to Nikki who arranged the accommodation and who's idea it was (keep it to yourself next time) and a big thanks to Neil for planning the route.

Commiserations to Lamby for not finishing due to injury, probably the fittest one and would have easily managed it. Don't be to hard on yourself where here to do that.

I reckon there must be someone doing the LEJOG or JOGLE (or LEA in Lamb's case) every day in the summer months, all willing to offer advice and stories as we met them, you meet lots of strangers willing to help you, from the builder who ripped a page out of his A to Z for us, to the old lady that offered Cam the use of her kitchen to mend a puncture and get a drink (he's like a magnet).
'A really enjoyable experience with a great set of people'.