Riders – Coops, Pete, John N and Foxdale
The ride started at the Cat with no Tail, Skippy was there to wave us off before he had a critical decision to make Chinese or Chippy for tea. John was worried that his tire had more cracks than a Dandara house, Coops decided to take the full suss out which apparently is terry nappy white rather than the porno powder blue hardtail.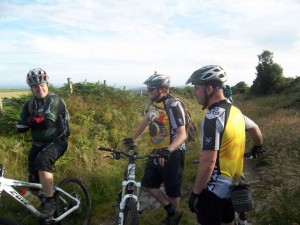 We set of towards the Clypse reservoir where at the last gate Bazaar (tart) the human wind farm was there mending a puncture, he was just finishing his ride from Laxey where he had been checking on the 'good ship lollipop', Bazaar suggested a couple of routes we could go on, we promptly told him to 'feck off' and he set off on his way.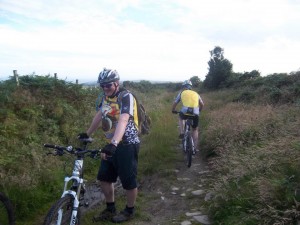 Onwards up Honey hill which is always a delight and on into Conrhenny; we stuck to the fire tracks as it was too gloopy in the trees. After a game of trying to lose Pete we headed to Baroose, Coops went first but me and Pete were all over him like a rash on a mad dogs bollocks, he tried every trick to shake us off making sure brambles hit us in the face, he resorted to throwing tacks giving me a puncture, tactic last used in the Tour de France where the custard bus was seen.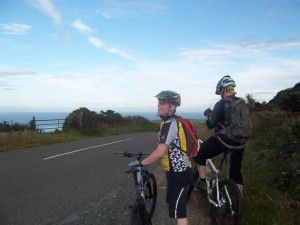 I gave the 3 reprobates a lesson on a speedy tube change, they seemed impressed as they gave applause and cheered 'about feckin time' (note Coops, dry warm night, not a cold lashing down winters night with no shelter). An uneventful ride back to the Cat for a pint, were Coops yet again tried to cheat at a pub quiz.
Foxdale